Realistic Earth-like planets in Carrara!
Need a high resolution Earth model as a backdrop for your blockbuster disaster movie? How about a newly discovered "terranova" for your space opera? According to news just this week, one in five sunlike stars observed by NASA's planet-hunting Kepler spacecraft has an Earth-size planet in the so-called habitable zone, where liquid water — and, potentially life — could exist….
Kepler can't *see* those planets directly. It actually recorded dips in the brightness of their suns, indicating a planetary transit. Since no one has actually seen them, it's anyone's guess how they will look…. I predict a bull run on Terra artwork, and we're going to need a lot more planets!
To celebrate I've put together 10 Tips to launch your planet scenes into orbit!


#1 – HIGH RESOLUTION EARTH MAPS
Carrara comes with a complete Solar System of planets organized under the Scenes Tab in the Browser. An Earth model is included with a separate cloud layer. It's part of the Native Content download that is free with purchase. These planets are great except for one thing, they use low-res maps only 1000 x 500 pixels.

Serious players will spend $8 to download the fullsize 10k Earth maps from JHT's Planetary Pixel Emporium, which are prepped to be used in 3D models with color, bump, and a specularity map for the ocean. While you are there, grab the free 4k maps of the Moon!
Perfectionists will find the high res maps from NASA's Blue Marble Collection to be the definitive reference, courtesy the US Geological Service at Visible Earth. Using a collection of satellite-based observations, scientists and visualizers stitched together months of observations of the land surface, oceans, sea ice, and clouds into a seamless, true-color mosaic of every square kilometer of our planet.
This remarkable collection includes different color maps for each month of the year so you can show annual vegetation and ice cycles, an extremely high res cloud map, and this stunning night-side map of city lights. These images are freely available to educators, scientists, museums, and the public.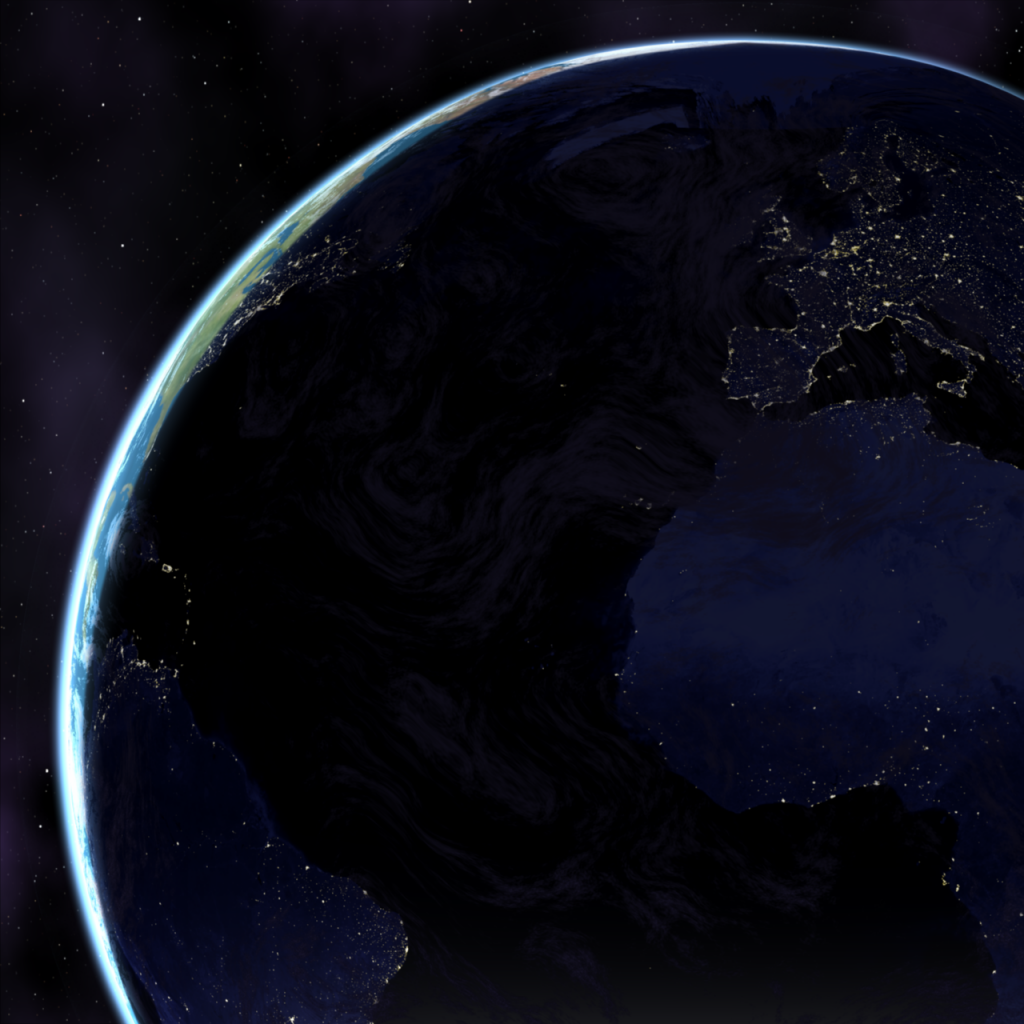 #2 – LUNARCELL Photoshop Plugin
Flaming Pear's LunarCell promises "Instant planets! Fractal, reality-based, or just strange worlds are yours in seconds…", and it delivers. With one simple interface LunarCell creates terrain and ocean maps, adds polar ice, atmosphere, a day and night side, city lights, and even clouds – at any resolution desired. Although there is no detailed control, continents are filled with green vegetation or brown deserts via fractal slider dials.
Want blue deserts and purple oceans? Click the color chips or spin the random dice! Feeling lazy? Don't even bother to export the maps, just render the planet right there in Photoshop and the results are gorgeous, with as much atmosphere and cloud cover as you please. Save your favorite planets for later, or export all maps in one multi-layer Photoshop file.
The plugin even has has a built-in map of the moon, but unfortunately no Earth map so you can't make "instant Earth" renders in Photoshop. The plugin promises direct download of fresh satellite cloud images, a feature which has worked in the past but since been password protected by most sources. Still at $29 LunarCell is a timesaver!
#3 – ENHANCE:C – SPACE 3D Procedural Shaders
Huge maps can be cumbersome and slow, and ultimately even 10k maps cannot compete with a procedural shader for detail and sharpness inside Carrara. Imagine a shot that starts in deep space and zooms all the way in to a small island…, or a rocket launch from sealevel to orbit…, or this deep-focus angle where the the cloud and ground layers stretch to the horizon…. Procedural shaders are like fractals, they just keep scaling the closer you zoom in.

SPACE 3D Shaders, a subset of Digital Carver's Guild's Enhance:C plugin adds a baker's dozen of volumetric shaders just for space scenes including Planet and Terra which can be stacked in their own subshader to create complex coastlines with sandy beaches, alge blooms, deep ocean, and mixed with gradient shaders to create jungle, desert, and mountain topography.
Coriolis and Planet Clouds shaders create seamless cloud layers. Advanced falloff sliders, as well as Magnitude and Threshold settings control overall cloud coverage, as well as the size and transparency and breakup of cloud formations.
Other SPACE 3D Shaders in the series include Gas Giant, Rings, Starfield, Glint – a shader for making impact crater rays, and Blast which could carve an undulating canyon. Each shader has eight noise settings under a drop down menu, high/low range and clamping sliders, dedicated bump channel strength, and independent X-Y-Z move, scale and rotation controls. Enhance:C is $59.95 at Digital Carver's Guild.